blazer DAKS, skirt TODS, boots CHLOÉ, earrings UNCOMMON MATTERS, V-neck sweater J BRAND, bag MULBERRY
Walk like a Parisienne, as the Bangles never sang. From Palais-Royal to Mariage Frères, she flicks her eyes between the golden autumn scene and her iPhone 11Pro screen, ironically anglocentric in her Glen plaid tailoring and Mackintosh.
LEFT: shirt SHOPYTE, hat MAISON MICHEL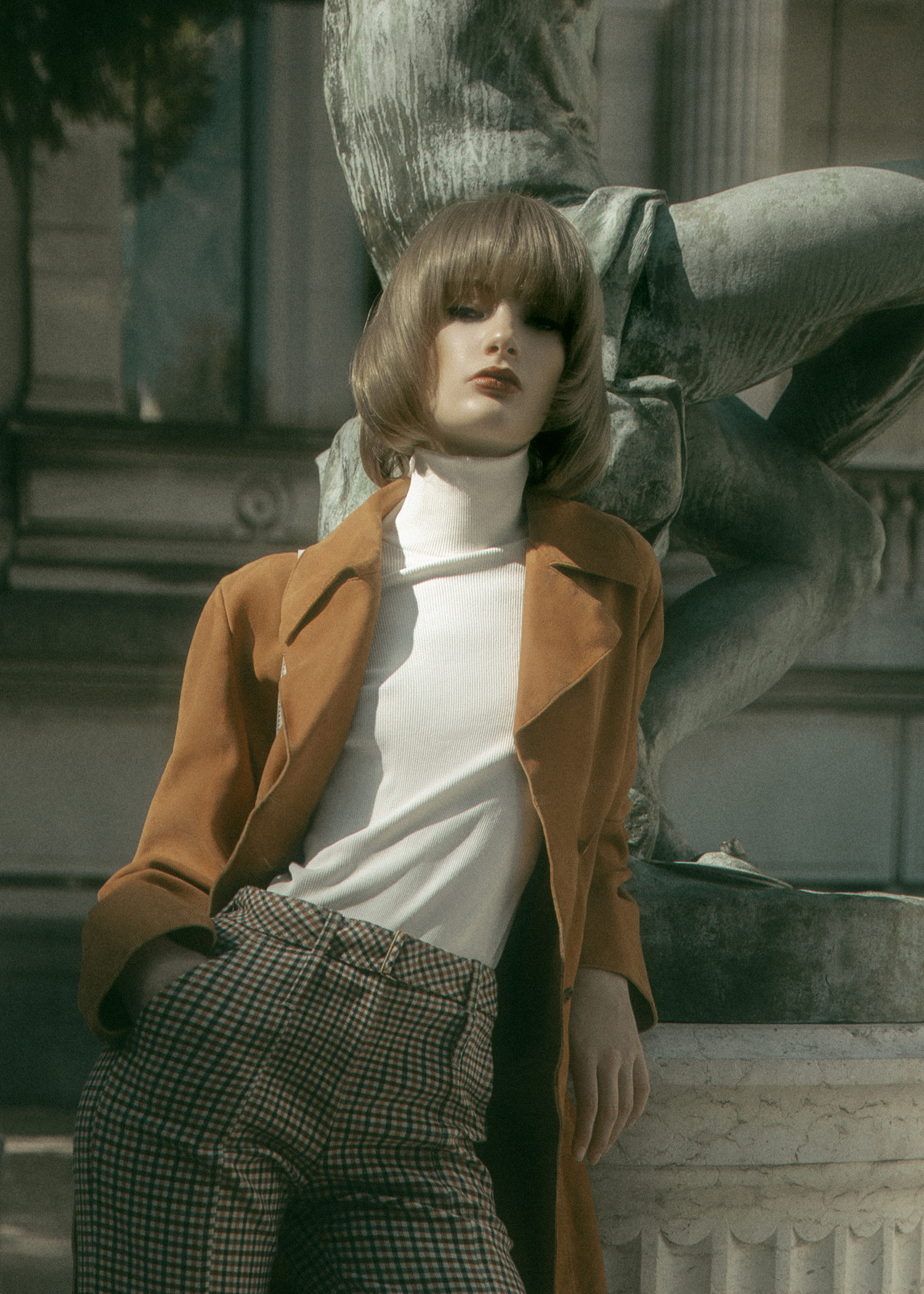 turtleneck GOLDSIGN, trousers TORY BURCH, coat AKRIS, shoes LAURENCE DACADE, bag DEMELLIER
Is it surprising that a girl of the 16th arrondissement should sound so smokily bohemian? The new Paris pin-up borrows unashamedly from her 1970s counterpart, deploying a healthy dose of rebellion, Catherine Deneuve-y riding boots (nothing says bourgeois like a hint of leisure-time equestrianism), and a Pringle of Scotland cape worthy of the Justice League.
RIGHT: turtleneck MAX MARA, cape and trousers PRINGLE OF SCOTLAND
turtleneck MAX MARA, leather jacket EUDON CHOI, trousers BERNADETTE
turtleneck DAKS, skirt FRAME, bag TL 180, shoes MULBERRY
photography SHINI PARK
art direction CAMILO GONZALEZ
styling MARIAN NACHMIA
hair & makeup KATE TIGHE
production CUBE COLLECTIVE
project management ANNA HOLMFELD

writer SOPHIE DENING
assist HANNA YI
assist SABINA WESTON
retouch ALE JIMENEZ
This article features affiliate links by carefully selected e-commerce partners. Read the disclaimer here.