jacket & skirt PAUL & JOE, shoes ROGER VIVIER
William Klein's 1966 film Who Are You, Polly Maggoo? is an affectionate send-up of the French fashion scene of the day. In the film's opening scene, the great and the good of the Paris fashion world come together inside a Gaudí-esque modernist grotto for a runway show that features models wearing aluminium clothes which have to be welded on. At the end, Grayson Hall's Miss Maxwell – a kind of Anna Wintour avant la lettre – leads the gushing backstage. "You have recreated woman," she says. The diffident designer shrugs. "We had to reimagine her for the nuclear age."
jacket PAUL & JOE, hat STYLIST'S OWN
OPPOSITE dress JANE, shoes ROGER VIVIER, hat MAISON MICHEL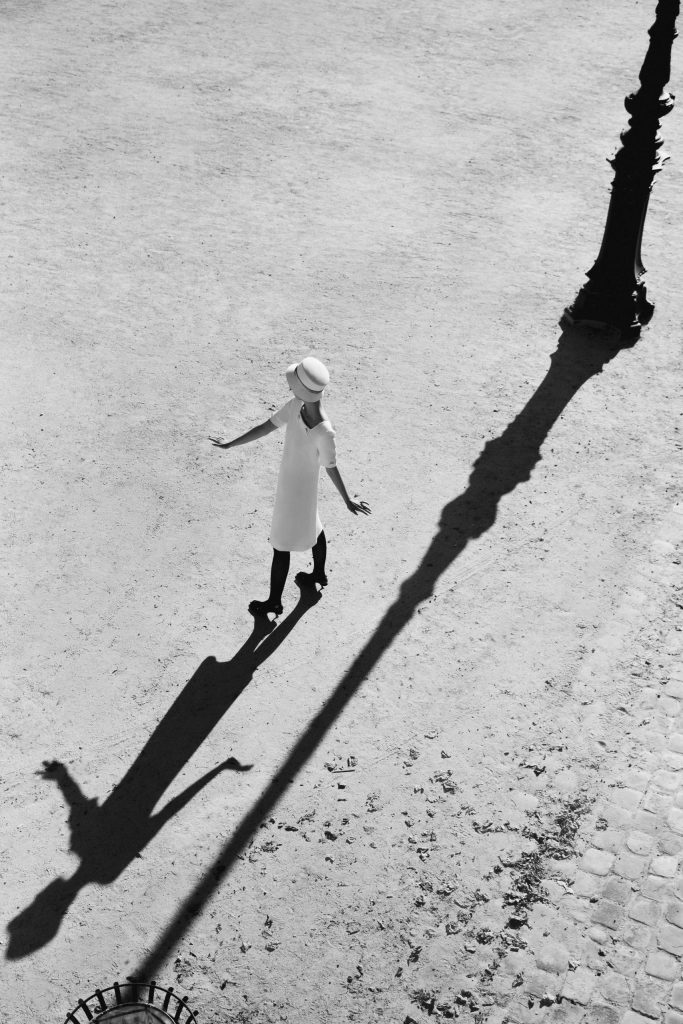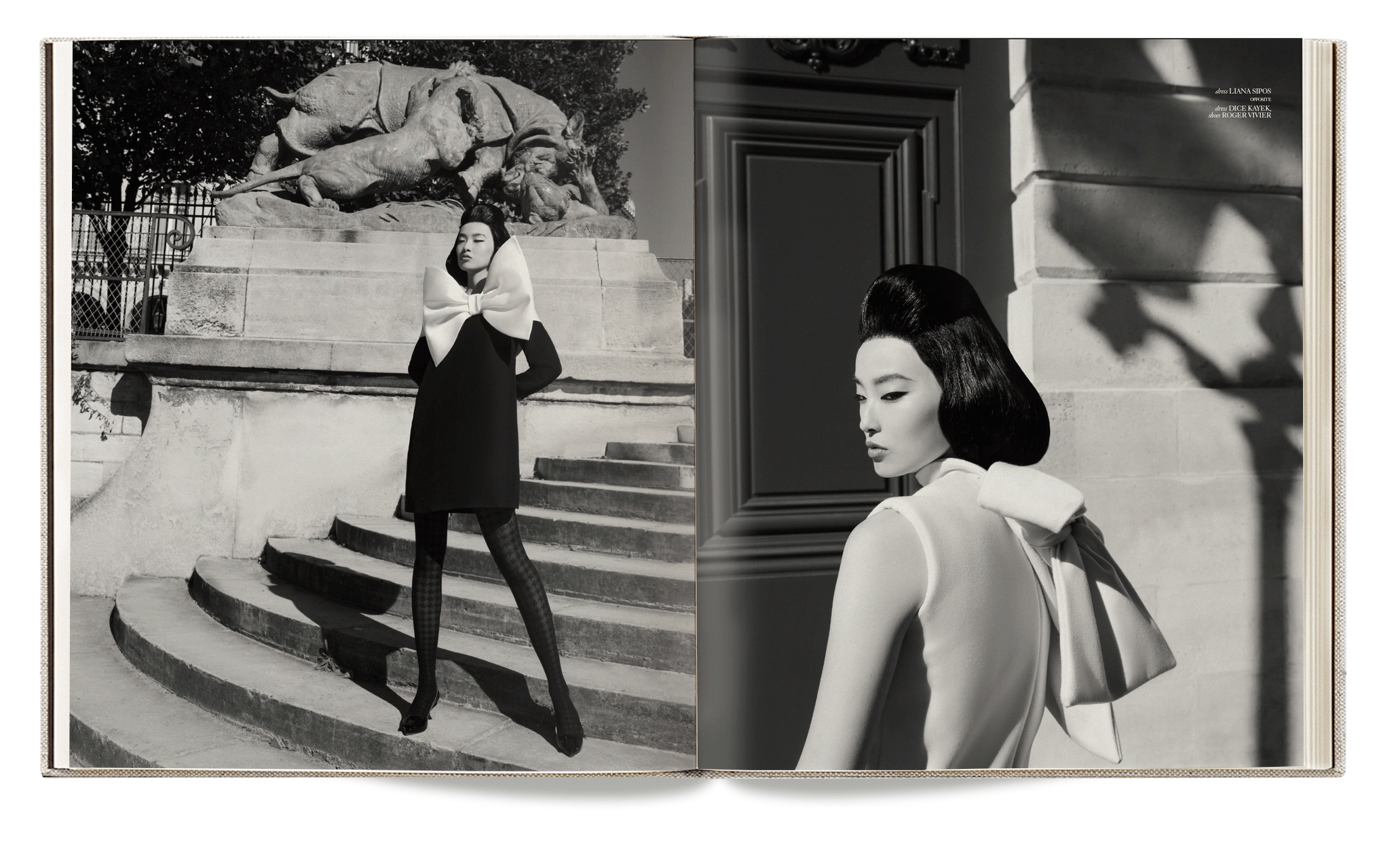 dress DICE KAYEK, shoes ROGER VIVIER
OPPOSITE dress LIANA SIPOS
It's all a joke, of course, but, as with all satire, it hints at an underlying truth. Klein was part of a generation of French-based fashion seers whose monochromatic futurist aesthetic wasn't about recycling old tropes or revisiting the archive. Rather, it was about relentlessly reimagining the possibilities of form, ripping everything up and starting again, charting new territory. Klein's contemporaries included Pierre Cardin, who managed simultaneously to be a populariser – democratising style with his iconoclastic ready-to-wear line – and an avant-gardist whose sculptural designs, space-age materials and innovative silhouettes propelled fashion into the future. Paco Rabanne was another key figure. He used everything from Plexiglass to fibre optics in his work, and created the definitive look of the age: Jane Fonda's spectacular green metal dress in Barbarella.
Both Rabanne and Klein lived the kind of heroic lives that you read about in novels. Klein was born into an impoverished Jewish family in New York, served in France during the war and studied under Fernand Léger at the Sorbonne. Rabanne's father was a Republican colonel, shot by the Francoists during the Spanish Civil War. His mother was a seamstress at Balenciaga. Twentieth-century history wasn't simply a backdrop: its relentless forward propulsion was stitched into the fabric of their lives. For them, the only way to look was forward, out, up to the stars. The only question worth asking: what next?
jacket GIAMBATTISTA VALLI, shoes CHRISTIAN LOUBOUTIN
OPPOSITE dress JANE ATELIER
The only question worth asking: What next?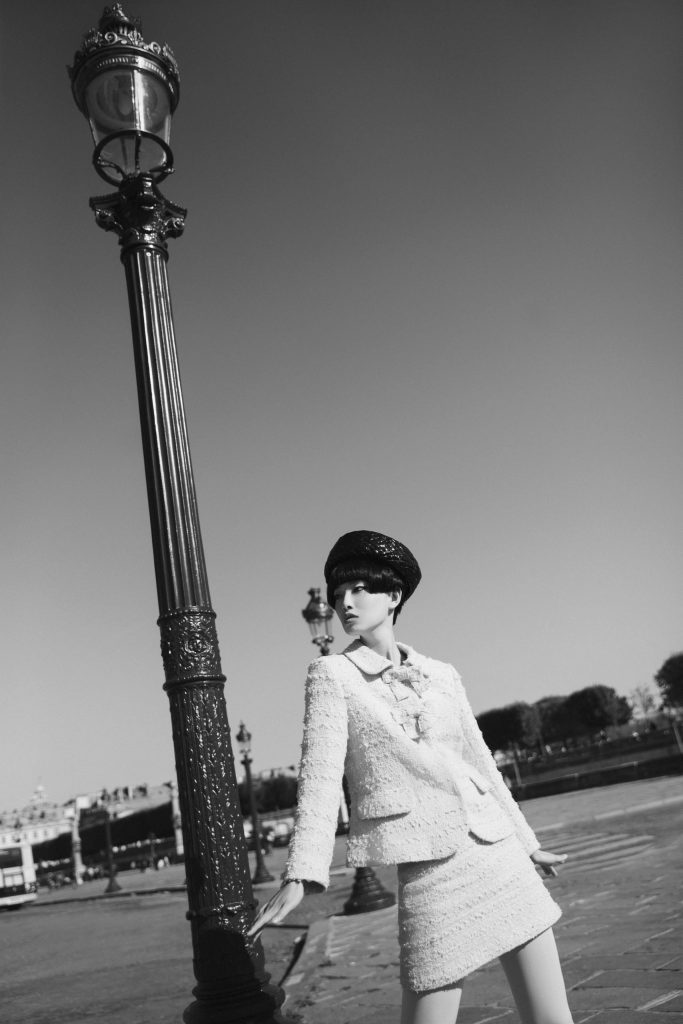 FROM LEFT TO RIGHT jacket and shirt PAUL & JOE, dress LIANA SIPOS, cape LIANA SIPOS
photography SHINI PARK
art direction CAMILO GONZÁLEZ
styling MARIAN NACHMIA
fashion assistance NATALIE GALAGAN
makeup HICHAM ABABSA
hair YUMIKO HIKAGE
production NATALIA KOWALCZUK via CUBE COLLECTIVE